(CNN) -- At least four people died and 50 more were buried under rubble from a magnitude-5.7 earthquake that struck eastern Turkey Wednesday night, officials said.
The death toll came from the Turkish Government Crisis Center, which said 16 people were rescued from under rubble.
The epicenter was 16 kilometers (9 miles) south of the town of Van, the U.S. Geological Survey said, and its depth was 4.8 kilometers (3 miles). The quake struck at 9:23 p.m. (2:23 p.m. ET), it said.
Thirteen people were rescued from two hotels, state-run television TRT said.
CNN Turk said 25 buildings collapsed; three of them were occupied at the time of the quake.
At least 18 buildings have collapsed in Van, including the two hotels and one school, TRT said.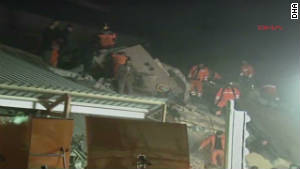 Earthquake collapses buildings in Turkey
DHA, a CNN partner station in Turkey, reported that two of its reporters were buried under rubble.
Video from DHA showed residents and rescuers in a floodlit nighttime search effort combing through rubble of what appeared to have been a multistory building in Van.
Five planes were being prepared in Ankara to take rescuers to Van, according to state news agency Anadolu. The agency also reported an aftershock of magnitude 4.4.
Parts of eastern Turkey, including the area around Van, were devastated by a magnitude 7.2 earthquake on October 23, which killed more than 500 people.