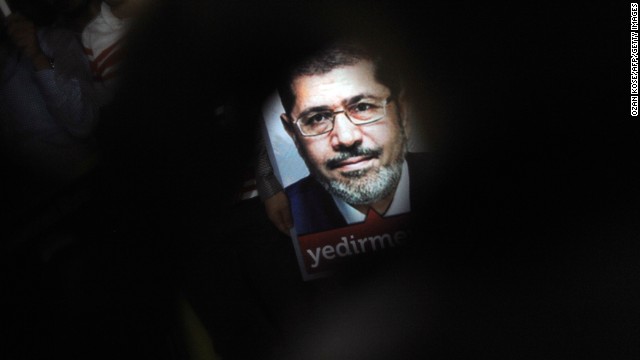 Egyptian President Mohamed Morsy refused Tuesday to bow to a military ultimatum that he find a solution to the unrest sweeping the country or be pushed aside, setting the stage for a possible showdown.
Morsy declared he was elected president in balloting that was free and representative of the will of the people.
"The people of Egypt gave me the mandate for president. They chose me in a free election. The people created a constitution which requires me to stay with the constitution," he said in a televised speech. "I have no choice but to bear responsibility for the Egyptian constitution."
The speech came as the clock ticked on the military's plan to suspend the country's constitution, dissolve the Islamist-led parliament and sideline the president, if Morsy does not strike a deal with the opposition to end the unrest, military sources told Arab media and Reuters.
Morsy's defiance sets the stage for a potentially violent showdown, pitting Morsy's supporters -- the Muslim Brotherhood -- against an opposition angered by what they say is the president's failure to take steps to improve conditions more than two years after a popular revolution that ousted Hosni Mubarak.
Morsy gave no indication of stepping down, sharing power or calling early elections, saying he was calling on the military to withdraw its ultimatum and return to its rightful work.
In Morsy's place, the military has said it would install an interim council, made up mainly of civilians, until a new constitution can be drafted and a new president elected, the sources said.
It was unclear what steps the military would take given Morsy's refusal to meet its Wednesday evening deadline. The military has previously stopped short of saying that it was suggesting a coup.
The ultimatum was meant to push all factions toward a national consensus; the armed forces aren't looking to be part of the political or ruling circles, a spokesman, Col. Ahmed Ali, said Monday in a written statement.
While insisting they want no direct role in national politics, the military leaders appeared to be pressuring Morsy to restructure his government.
The steps could include reducing the influence of the Muslim Brotherhood in his Cabinet and calling early presidential and parliamentary elections, a source close to highly placed members of Egypt's leadership told CNN.