From backpacks to 'flash-bangs': Boston's week of terror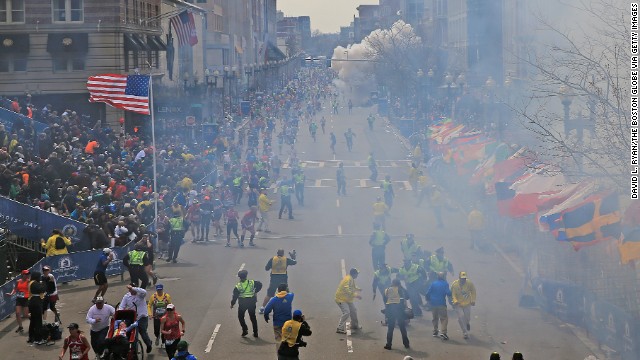 Two young men with backpacks walked with purpose down Boylston Street Monday afternoon, weaving through the crowd on the sidelines of the Boston Marathon. It seemed like they'd been there before, like they knew where they were going.

The one in the white cap reached his destination first, about two blocks from the finish line. The other one, wearing a hoodie and a black cap, kept going. Some three minutes later, he elbowed his way through the crowd and dropped his backpack near the finish line. It was about 15 minutes before 3 p.m.

The first explosion, at 2:50 p.m., sent smoke and flames into the air -- and glass and nails and ball bearings and BBs into the crowd. It seemed to inflict the cruelest kind of damage to any marathon fan: It attacked their legs.

Jeff Bauman, who survived but lost both legs, saw the man in the black cap drop his bag. Two women standing nearby -- restaurant manager Krystle Campbell and Chinese grad student Lingzi Lu -- died in the blast.

As some people fell and others ran screaming, the man in the black cap casually walked away.

Twelve seconds later, another explosion, more screams, more panicked people running. This time, a little boy, Martin Richards, 8, lay on the sidewalk, fatally injured. His mother and sister also were seriously hurt. In the crowd, the man in the white cap strolled calmly and turned the corner onto Fairfield Street.

Later, an official who asked not to be named told CNN: "When the bombs blow up, when most people are running away and victims were lying on the ground, the two suspects walk away pretty casually.

"They acted differently than everyone else."

That night, a few minutes after 8, a college student using the screen name J_tsar tweeted a quote from rapper Jay-Z: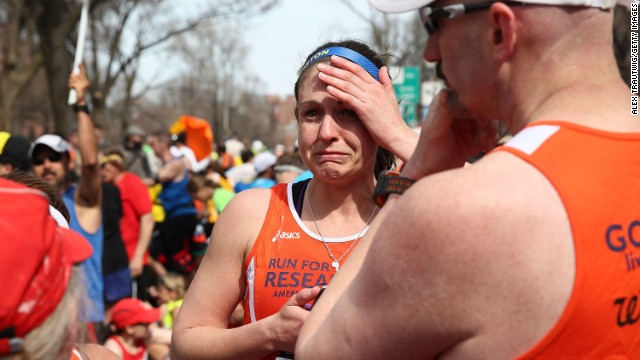 "Ain't no love in the heart of the city. stay safe people."
For the next three days, Boston and the rest of the nation wondered who was behind the first terror attack of its kind on U.S. soil since September 11, 2001. Was it al Qaeda, a homegrown terror group or a lone wolf?
Boston terror attacks timeline
Because the bombing was suspected terrorism, the FBI quickly took the investigative lead. But there was no chatter among the jihadists. No one claimed responsibility for the blast.
But J_tsar was a chatterbox on Twitter. Early Tuesday, just past midnight, he sent out another, more mysterious tweet: "There are people that know the truth but stay silent & there are people that speak the truth but we don't hear them cuz they're the minority."
All day Tuesday, the news focused on the gruesome details of the crime scene and those who were lost or maimed. More than 170 people were hurt by flying glass, shrapnel, ball bearings and nails, some of them grievously. The sidewalks along Boylston Street were slick with blood in some spots.
President Obama condemned the marathon bombings as terrorism and vowed that those responsible would feel the full weight of justice.
Sometime that day, a college student named Dzhokhar Tsarnaev came into Gilberto Junior's body shop in the suburb of Somerville, Junior told The New York Times. He knew Dzhokhar and his older brother Tamerlan as "regular kids" with a taste for expensive cars. Dzhokhar said he needed his white Mercedes station wagon immediately.
The car was still missing a bumper and tail lights, and his customer seemed nervous, Junior told the newspaper. He bit his nails and his knees where shaky. The body shop owner wondered if he was under the influence of drugs.
That night J_tsar tweeted up a storm:
He quoted the rapper Eminem: "Nowadays everybody wanna talk like they got somethin to say but nothin comes out when they move their lips; just a bunch of gibberish."
He slapped down an Internet rumor that a man had planned to propose to his girlfriend at the marathon but found her dead: "fake story."
He replied to someone else's tweet: "and they what 'god hates dead people?' Or victims of tragedies? Lol those people are cooked."
And he tweeted: "So then I says to him, I says, relax bro my beard is not loaded."
Behind the scenes, federal investigators began to sort through what has become the norm in a post-9/11 society: Thousands upon thousands of surveillance photos and videos taken from cameras at traffic lights, store fronts, parking garages and other places along the marathon route.
The crime scene extended for 12 blocks. The 26.2-mile marathon route is open to the public and the event is heavily photographed. Authorities asked for amateur cell phone photos and videos from anyone who had been at the marathon. Who might investigators find on the sidelines, in the background?
During a shift change at the Boston Police Department, a supervisor told officers: "When you get home tonight hug your kids once and then hug them again. And that's an order."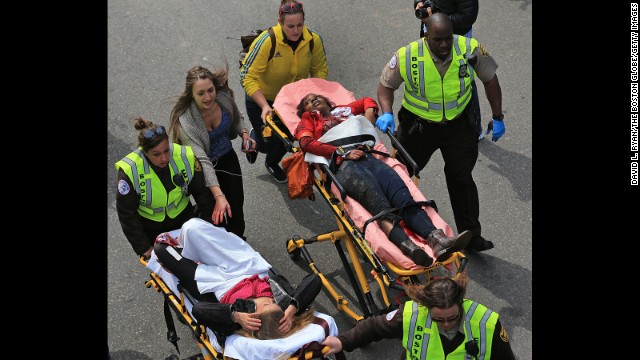 As Tuesday melted into Wednesday, J_tsar was back on Twitter. "I'm a stress free kind of guy," he tweeted shortly before 2 a.m.
The day seemed like any other at school for the Mercedes-driving 19-year-old later identified as the tweeter: Dzhokhar Tsarnaev, a sophomore at the University of Massachusetts-Dartmouth. His student ID told the story of his day; like all students, he has to swipe the card to enter buildings on campus.
Card swipe information shows he went to the gym and spent Wednesday night at his dorm. Dzhokhar was known as Jahar to friends on campus.
Student Zach Bettencourt said he discussed the bombing with Dzhokhar at the gym.
"You hear about this kind of thing happening in Iraq and Afghanistan but not here," Bettencourt said.
Dzhokhar responded: "Yeah tragedies happen man, like these things happen around the world. It's crazy."
Less than 48 hours after the bombing, Harry Danso was making small talk with Dzhokhar at their dorm. "He was just in the hallway, said 'Hi' and walked past me. He just acted regular. Gave me a regular smile, like usual."
He also went to a party at the dorm, a fellow student told The Boston Globe. It was attended by friends who competed in intramural soccer.
"He was just relaxed," the student said, asking the paper not to publish her name. Also on Wednesday, authorities revealed that one and possibly both of Monday's deadly devices had been fashioned out of pressure cookers. A pressure cooker lid was found on a rooftop near the marathon finish line.
Meanwhile, Dzhokhar's older brother, Tamerlan, was reaching out to family members. He called two uncles on Thursday, seeking their forgiveness.
"He called me, confused," Ruslan Tsarni, who lives outside Washington, told CNN. In an earlier interview with USA Today, another uncle quoted Tamerlan as saying, " 'I love you and forgive me' ... I guess he knew what he had done."
Learn more about the brothers Tsarnaev
More violence, and a breakthrough
Thursday was a breakthrough day for investigators.
They already had made progress, finding clear images of the men with the backpacks and ball caps on a surveillance video. Intelligence had been developed on one suspect earlier in the week; images of the second suspect were isolated Wednesday, officials told CNN.
Jeff Bauman, who'd survived the bombing but lost both legs, regained consciousness at Boston Medical Center and gave them a lead. On a piece of paper, he wrote: "Bag, saw the guy, looked right at me."
Top level officials from the Justice Department, FBI, ATF, Department of Homeland Security, Massachusetts State Police and Boston Police Department debated whether they should go public with the images they had found.
By 5 p.m. Thursday, after several delayed news briefings, a task force of federal, state and city law enforcement officials released photographs of the man in the black cap and hoodie and the man in the white cap. They asked for the public's help in identifying them.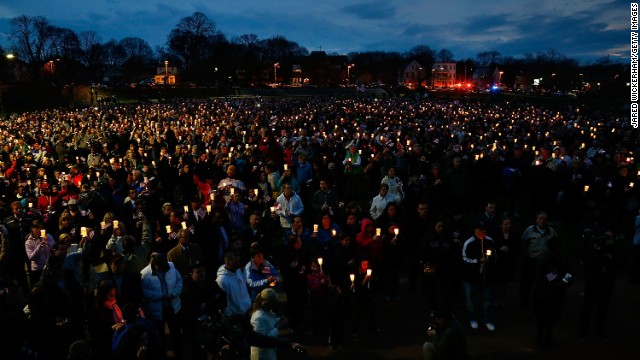 "We are processing all the digital photographic evidence we can," Agent Richard DesLauriers, who leads the FBI's Boston division, told reporters. He asked the public to keep submitting their photos to police, noting that investigators had "a huge amount of video evidence to process."
Later that evening, an image of one of the brothers was captured on surveillance video at a convenience store in Cambridge. Then, about 11 p.m., police learned that Sean Collier, a police officer at the Massachusetts Institute of Technology, had been ambushed and shot to death in his patrol car on the campus.
In the early hours of Friday, the pair allegedly carjacked a Mercedez-Benz SUV in Cambridge, forced the driver to withdraw cash at an ATM, then let him go at a gas station.
The driver called 911 and reported that he'd been held up at gunpoint by two men who said they were the marathon bombers. He also said he'd left his cell phone in the car.
Police were able to track the cell phone -- and the car -- to Watertown, just west of Boston.
Just before 1 a.m. Friday, a lone Watertown cop came upon the brothers, who were now driving two cars, police Chief Edward Deveau said. They were armed with guns, pipe bombs and other explosives. Both cars stopped and the brothers leaped out and opened fire before backup could arrive.
Other officers responded to the pinned-down officer's call for help. More than 200 shots were fired in 5 to 10 minutes.
Deveau said the brothers tossed explosives at police, including a homemade pressure-cooker bomb.
The older brother, Tamerlan, walked straight toward the cops but ran out of ammunition. He'd been wounded. An officer tackled him and police were handcuffing him when Dzhokhar tried to escape in the Mercedes. He aimed the car at the officers, who dove out of the way, and he ran over his brother. The Mercedes dragged the older brother down the street as it sped away.
The driver continued to exchange gunfire with police, then jumped out of the SUV and ran into the darkness.
Authorities finally got names to go with the photos and videos when they scanned a fingerprint from the brother left behind, according to The New York Times. He was Tamerlan Tsarnaev, and he was pronounced dead at a hospital. He was wearing explosives and a triggering device.
Police also learned that the Russian government had asked the FBI to check out Tamerlan's connections to radical Islamic groups in 2011. Nothing had come of the investigation.
Boston woke up Friday morning and learned the names of both bombing suspects. The manhunt for Dzhokhar Tsarnaev lasted all day and shut down much of Boston as police asked everyone to stay indoors. Authorities searched door-to-door in Watertown.
Then, in the evening, the request was lifted and authorities got a tip: A Watertown man told police someone was hiding in his boat in the backyard, bleeding. It was their suspect, the Watertown police chief said.
By then, there were a couple thousand police officers at the scene. A thermal image photograph, released Saturday by state police, showed what authorities say was Dzhokhar Tsarnaev lying in the middle of the boat.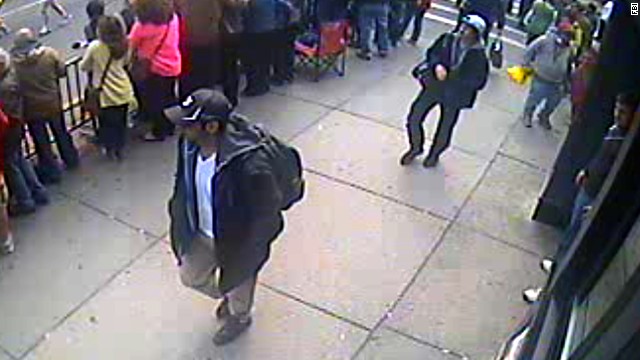 "We know you're in there. Come out with your hands up," police demanded over a bullhorn.
Officers spotted Dzhokhar poking through the tarp and used "flash-bangs," devices meant to stun people with a loud noise. They used a robot to pull the tarp off the boat and negotiated with Dzhokhar for about half an hour.
Police, who had no idea whether he had explosives with him, repeatedly told him to stand up and lift his shirt and he eventually complied.
"Once we saw that, we felt comfortable enough to send some officer tactical equipment to grab him and pull him away from the boat," Deveau said.
The Boston Police Department got the last word on Twitter: "CAPTURED!!! The hunt is over. The search is done. The terror is over. And justice has won. Suspect in custody."
A few minutes later, a more somber tweet followed as Boston heaved a sigh of relief: