As U.S. rethinks arming rebels, Syria says chemical weapons also a 'red line'
Has a "red line" been crossed in Syria? And if so, what happens next?
The top defense official in the United States -- whose president has called the use of chemical weapons by Syrian forces a "game changer," as to how his and other governments address the crisis -- said Thursday that Washington is rethinking changing its policy of opposing providing weapons to the rebels.
Defense Secretary Chuck Hagel's admission -- after weeks of the United States resisting arming the opposition, for fear the weapons could end up in the wrong hands -- comes days after a White House aide sent a letter to two U.S. senators saying the intelligence community assessed "with varying degrees of confidence" that Syrian President Bashar al-Assad's government had used the chemical agent sarin on a "small scale."
A top Syrian official said Thursday that a line had been crossed, too -- but not by his government.
Syrian Information Minister Omran al-Zoubi said in an exclusive interview with CNN that his government had not, and "would never use" chemical munitions -- "if we had them."
Yet he did say such weapons have been used in the bloody, years-long civil war -- by hard-line Islamist rebel groups. And while al-Zoubi insisted his government would never use them, he said their use by others does change things.
"President (Barack) Obama says chemical weapons are a red line," al-Zoubi said. "Then he is in direct accordance with President Assad, who also thinks that chemical weapons are a red line."
The Syrian government-run media has been hitting home its stance that "terrorists" are handling chemical weapons and then blaming the use of them on the government.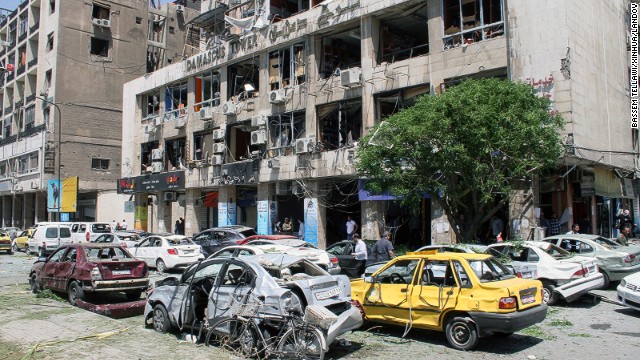 For example, a Syrian Arab News Agency reporter, citing an official source, said Thursday that "terrorists" threw "unknown powder" in Idlib residents' faces to accuse the army of using chemical weapons.
"In the places where there is the opposition," al-Zoubi told CNN, "it is using chemical weapons that evaporate, and you smell it, they are filming it, and they are using it as alleged proof that the Syrian government is doing it."
Opinion: Obama must act on Syria chemical weapons
The civil war engulfing Syria has left around 70,000 people dead, spurred massive displacement and caused widespread destruction.
The presence of chemical weapons and fear of their use in the war-torn country has raised profound alarm in world capitals, including Washington. That's because, Obama said recently, of the weaponry's "potential of killing massive numbers of people."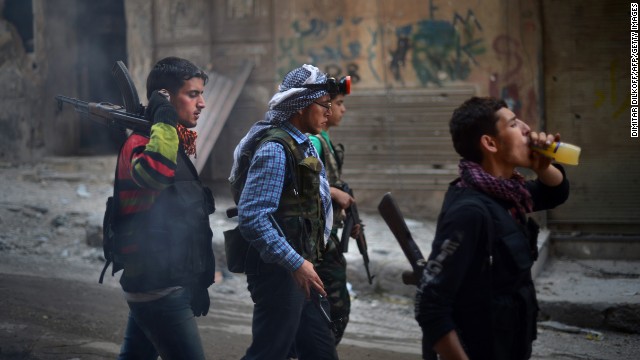 Syria denies that it has used, or even possesses, chemical weapons, but the West has long concluded that the country does have them. Obama previously called the use of chemical weapons a "red line" and a "game-changer" for how the United States approaches the war.
The United States hasn't intervened militarily, even though it has played a major role in drumming up opposition to al-Assad's rule.
Opinion: Obama's no-win options in Syria
The stakes rose last week with the White House aide's letter, and its reference to intelligence suggesting Syrian forces had used chemical weapons.
But after the letter, Washington stopped short of altering its approach to Syria. The White House aide noted that "only credible and corroborated facts" will determine U.S. "decision-making."
In his comments to reporters Thursday, the U.S. defense secretary said President Barack Obama administration's decision to reconsider whether to arm opposition fighters fits into its philosophy of "constantly evaluating" the situation "based on all contingencies."
And just because the United States is thinking about arming the rebels doesn't mean missiles and more are on the way, Hagel said.
"You look at, and rethink all options. That doesn't mean you do or you will," he said. "These are options that must be considered with partners, with the international community, what is possible, what can help accomplish these objectives."
Speaking a short time later from Mexico City, Obama said, "What Secretary Hagel said today is what I've been saying now for months, which is we are continually evaluating the situation on the ground working with our international partners to find the best way to move a political transition that has Assad leaving, stabilizes the country, ends the killing and allows the Syrian people to determine their own destiny."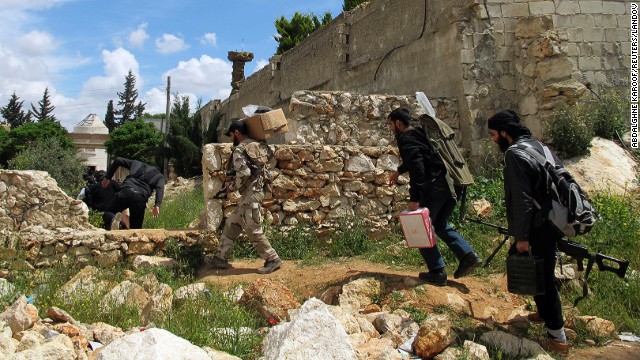 "As we've seen evidence of further bloodshed, potential use of chemical weapons inside of Syria ... we're going to look at all options," said the president.
But before Washington acts, the president has said there needs to be a thorough, "prudent" investigation to determine who got chemical munitions and how they got them, when they were used and how they were used. Any plans to get more involved in the Syrian situation must be well thought out, he said Thursday.
"We want to make sure that we look before we leap and that what we're doing is actually helpful to the situation, as opposed to making it more deadly or more complex," Obama said.
What complicates U.S. support for the opposition is that many of the rebel fighters are Islamic militants with pro-al-Qaeda sympathies -- the same stripe of militants America has battled in Iraq and Afghanistan.
They include an entity called the al-Nusra Front, or Jabhat al-Nusra, a rebel group that al-Zoubi says has used chemical weapons.
All options on the table regarding Syria, U.S. officials
"We have proof," he said of al-Nusra's chemical weapons use.
The United States has designated the front as a terrorist group. But al-Zoubi finds it hypocritical that while the United States talks about fighting terrorism, "in reality it doesn't seem to be doing so." That's because, he said, Washington is more intent on accusing the Syrian government than on seeking the truth.
"America is not serious about discussing this type of chemical weapons use," al-Zoubi said. "It is shameful."
The United States says it is sending the opposition nonlethal material, not arms. But al-Zoubi has a different take on that.
"There seems to be a question as to the position of the United States toward Jabhat al-Nusra and al Qaeda. America talks about fighting terrorism, but in reality it doesn't seem to be doing so. How can you fight terrorism and count Jabhat al-Nusra as a terrorist organization and at the same time send weapons to these terrorists?"
He maintained that the government is "very sure" that chemical weapons in Syria were brought there from Turkey.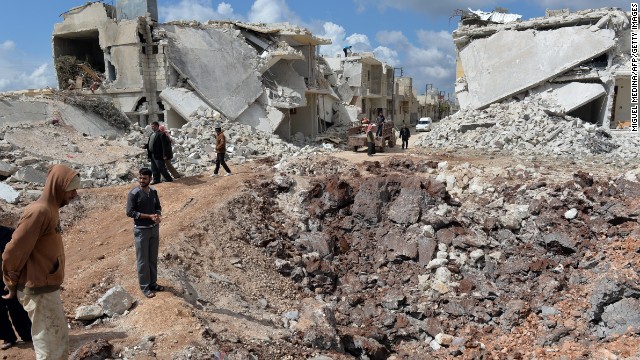 He said that he's not an expert on what chemical weapons are being used but that such a question should be asked of the leaders of Turkey and Qatar, because they are sending weapons to al-Nusra and al Qaeda. He said pressure on the Assad regime has been an obstacle to a fair U.N. investigation of the use of chemical weapons.
"If the United States wants to prove anything, they need to show the evidence to us. We are very sure that these weapons have come to Syria from Turkey. This is not a political accusation. This is based on facts. And Jabhat al-Nusra has said that this is true. There are videos that make this clear," al-Zoubi said.
A Turkish diplomatic source "firmly denied" Syria's "baseless allegations" about chemical weapons and said its comments "cannot be taken seriously" because the regime is obstructing a U.N. fact-finding mission on the issue.
Al-Zoubi says he wonders why Western nations are giving such weapons to al Qaeda and the al Nusra Front.
"Do they want to increase terrorism, or do they want to find a pretext to invade Syria? If they are trying to make them stronger, it means that the Western countries are on the same side as the terrorists," he said. "It is very clear that the United States, France and Turkey have a one-sided way of looking at this."