(CNN) -- Lawmakers in Australia's Labor Party voted Monday to back Prime Minister Julia Gillard as head of her party, and nation, in the face of a challenge from her predecessor Kevin Rudd.
More than 100 members of Parliament from the party cast their votes around 10 a.m. Monday (6 p.m. ET Sunday) in the capital of Canberra, as to which of the two they wanted to lead the Labor Party. Legislator Chris Hayes announced the results -- with 71 votes for Gillard and 31 for Rudd -- about 80 minutes later.
Gillard had called for the vote last week, shortly after the abrupt resignation of Rudd as her administration's foreign minister, in hopes of ending any leadership speculation "once and for all."
"This is not an episode of 'Celebrity Big Brother,' this is about who should be prime minister," she said last Friday, adding her colleagues needed to decide "who's got the strength, the temperament, the character, the courage to lead this nation."
Rudd resigned last Wednesday while on an official trip to Washington and, two days later, announced he'd launch a bid to become head of the Labor Party.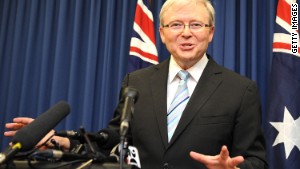 Rudd challenges for party leadership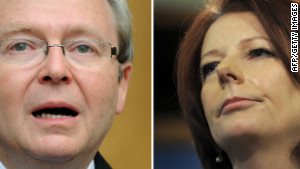 Gillard & Rudd: Aussie power struggle
A win in Monday's vote would have made him prime minister-elect -- a position he held once before, having led his party in 2007 to its first win in 21 years by defeating then Prime Minister John Howard.
But he lost that post in 2010, after his then-deputy Gillard successfully challenged him, claiming the government "was losing its way."
Last Friday, Rudd said that it was Gillard who had "lost the trust of the Australian people" and prompted his decision to "contest the leadership of the Labor Party."
For a time, Rudd had been one of the country's most popular serving prime ministers. But his popularity tumbled after he was seen to backtrack on his commitments to climate change and an emissions trading plan.
And while his public approval ratings remain consistently higher than that of his successor, Gillard, Rudd has proven less popular among party leaders.
Prior to Monday's vote, Labor Party parliamentarian Steve Gibbons wrote on Twitter that "only a psychopath with a giant ego" -- a reference to Rudd -- "would line up again after being comprehensively rejected by the overwhelming majority of colleagues."
Gibbons later released a statement, applauding Rudd for the "magnificent victory in 2007" but faulting "his chaotic and deeply offensive style of leadership since then (that) gradually eroded the goodwill that (the Labor Party) caucus had awarded him."
On Friday, Gillard maintained she had enough support to lead her party to victory in the next election -- which will be held no later than November 2013. Her record, she said, spoke for itself.
"As prime minister, I have got big reforms done that languished under my predecessor," she said.
The ruling Labor Party has seen its support evaporate since pushing the conservative coalition from power in 2007, and recent polls indicate it would lose an election if it was held now.
Rudd said last week that that it was clear that the Labor Party had a lot of work to do to regain the confidence of the Australian people.
He contended that he was best positioned to do that and stave off a challenge from a strengthened opposition, which he described as one of the most right-wing in Australia's history.
"I want to finish the job that the Australian people elected me to do when I was elected, by them, to become prime minister," Rudd said.
He added that he was "a bit tired and fed up" of being blamed for the problems of the government under his successor.
During his brief speech to the Labor Party caucus on Monday, Rudd said that he would back Gillard and not challenge her for the party's leadership if he lost the vote -- as he did -- according to Hayes.
Applause rang out after the results of Monday's secret vote became known, the legislator added.