Buenos Aires, Argentina (CNN) -- Argentina's president declared a two-day period of mourning after a commuter train plowed into a barrier at a Buenos Aires station Wednesday, killing 49 people and injuring hundreds more.
Video from the scene showed rescuers prying open windows of twisted train cars to reach trapped passengers. Crews carried bleeding victims on stretchers through the busy Once station; some victims were taken to area hospitals by helicopter.
"The government and people of Argentina give their solidarity and weigh the pain felt by the families of the victims," President Cristina Fernandez de Kirchner said in a statement declaring the mourning period. Memorials will be held outside Argentina's Government House and Olivos, the presidential residence, the state news agency Telam reported.
"Never in my life had I seen anything like this," Transportation Secretary Juan Pablo Schiavi told reporters hours after the accident, which occurred during the height of the morning rush.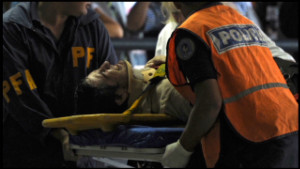 Argentina train crash kills more than 40
Passengers told reporters the crash sounded like a bomb blast.
"Suddenly I heard a bang, and many people fell on top of me. I think I had more than 10 people above me. I got out as quickly as I could," a witness identified only as Esteban told the state news agency. "I only saw injured people and heard screams."
The first two cars of the train -- crammed with commuters -- were most affected by the crash. Passengers emerged bruised, some with serious injuries, Schiavi said.
The crash injured more than 600 people, Telam reported, and more than 460 were hospitalized. Family members flooded local hospitals, clamoring for news of missing loved ones.
Auhtorities will use GPS data, security camera footage, audio recordings from the driver's cabin and maintenance records in their investigation, Schiavi said.
The train stopped at other stations on its route, and data show that it slowed as it approached the Once station, Schiavi said.
"It stopped 14 times, and the last time, it didn't stop," he said.
The train was traveling at 26 kilometers per hour (16 mph) when it entered the station around 8:30 a.m., he said.
"We do not know what happened in the last 40 meters," he said.
The train's 28-year-old driver had just started his shift and had a good record, the transportation minister said.
Earlier Wednesday, Schiavi said authorities believed there were problems with the train's brakes that caused it to smash into a barrier at the station.
Buenos Aires Trains, which runs the rail service, said it was cooperating with the federal investigation.
Wednesday's crash was among the worst in Argentina's history, Telam reported.
In 1970, 200 people died when two trains crashed north of Buenos Aires.
Eight years later, 56 people were killed when a train hit a truck in Argentina's Santa Fe province, the state news agency reported.