Egypt unrest: Clashes erupt in Cairo, kill 1 and wound 11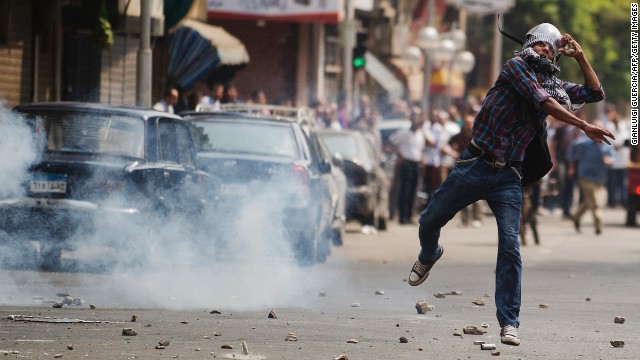 Editor's note: Have you witnessed the protests in Egypt? Send us your images and video, but stay safe.
Cairo (CNN) -- Clashes broke out in downtown Cairo on Tuesday between supporters of deposed Egyptian President Mohamed Morsy and those opposed to his rule, leaving at least one person dead, state-run media reported.
The violence came more than a month after the military ousted Morsy, which sent tens of thousands of his supporters -- primarily members of the Muslim Brotherhood -- into the streets. They have been staging daily sit-ins since.
Egypt explained: 6 key questions
The fighting broke out in front of the Ministry of Religious Endowments in the heavily populated Giza neighborhood, leaving one dead and 11 wounded, state-run Ahram Online reported, citing unnamed security sources.
Clashes also were reported outside of the Ministry of the Interior, the news agency said.
Authorities, according to Ahram Online, blamed the casualties on fighting between pro-Morsy protesters and residents, including shopkeepers.
Some protesters who were carrying weapons fired randomly, causing confusion in the neighborhood, security sources said. Shopkeepers responded by opening fire, they said, according to the news agency.
But the Muslim Brotherhood blamed the casualties on plainclothes police officers, who they said opened fire, according to a statement released by the group.
Opinion: Morsy holds key to Egypt's future
The protests started almost immediately after Morsy, Egypt's first democratically elected president was ousted by the country's military leaders. Hundreds have been killed and thousands have been injured in recent weeks, either in clashes between opposing protesters or in clashes between protesters and Egyptian security forces.
For weeks, Morsy supporters have set up two massive makeshift camps in Cairo to protest the coup. The people packed into the camps refuse to budge until Morsy is reinstated, and the sites have morphed into cities within a city.
Demonstrators have anticipated a crackdown since the Egyptian government said the protests must end, citing the violence and the traffic. They've fortified their sites with sandbags, tires and stacks of bricks. Volunteers pat down visitors and check bags.
How the Egyptian interim government responds will be a defining moment in this complex standoff.
"We hope that negotiations can end the situation peacefully. We hope that not a single drop of Egyptian blood is spilled," Abdel Fattah Othman, an Interior Ministry spokesman, told Al Tahrir TV on Monday.
The ministry has a plan, resources are ready and troops are prepared to take action once the appropriate political and security clearances are given, he said.
Morsy became Egypt's first democratically elected president in 2012, a year after popular protests forced President Hosni Mubarak to resign and end his three-decade rule.
But a year into Morsy's term, many Egyptians wanted him out, too. They said the Western-educated Islamist, aligned with the Muslim Brotherhood movement, was not inclusive and they said he had failed to deliver on the people's aspirations for freedom and social justice.
From hope to despair: Egypt slides into economic uncertainty, again
Morsy was accused of authoritarianism and trying to force the Brotherhood's Islamic agenda onto the nation's laws. He was also criticized by many Egyptians frustrated with rampant crime and a struggling economy that hadn't shown improvement since Mubarak resigned. But supporters say Morsy repeatedly offered Cabinet positions to secularists and liberals -- only to get repeatedly rejected.
Morsy has not been since publicly since he was pushed from office.
State media reported he's being held in relation to a jailbreak that took place during Egypt's 2011 revolution, well before he came to power.
Journalist Sarah Sirgany reported from Cairo and Mohammed Tawfeeq reported from Atlanta.